Professional Feed Mill Manufacturer
Poultry Feed Machinery
We can supplier of poultry feed mill and livestock feed equipment,
KMEC -- Feed Mill Equipment
 Complete set bioenergy pellet machinery mainly composed of hammer mill, dryer, pellet mill. Its key technology is that the high fiber materials with 20% fiber contents can be pressed into pellet fuels of 6-15mm diameter with density of 1.05t/m&sup3 through high-temperature. This kind of pellet fuels is a new recycling environmental energy which can replace coal, oil, to be applied in the areas of cooking, heating, and industrial steam furnace. The equipments of bioenergy pellet fuel refer to bioenergy burner, bioenergy cooking and heating stove, which makes large amount of wastes of green plants such as straw and wood wastes into energy.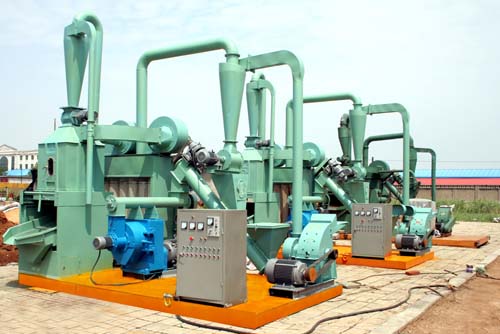 The technology and equipments of bioenergy fuels pelletizing has reached advanced level domestically. Bioenergy pellet fuel has the advantages of simple production, convenient transportation and storage, pollution-free, and large calorific value which is the ideal fuel to replace coal, oil and other conventional energy. The technology and equipments are widely used in industrial production and daily life with prospective future.
  The purposes of pellet fuels:
o Heating and energy of daily life: high fuel efficiency and convenient storage.
o Industrial boiler: as main fuel of industrial boiler to replace coal and solve the environmental pollution.
o Power generation: as the resource of thermal power.
  National Eleventh Five-Year Plan popularizes the renewable energy. Increasing consumption of coal and oil energy which has very limited resources in our country, according to the current level of development, the supply of them is only 30-40 years. Therefore, the national demand of renewable energy is growing greatly. Environmental protection requirements also need a large number of applications of bioenergy. The demand of bioenergy pellet fuels will be increasing next few decades, whose prices will be between the price of petrochemical energy and the price of electric energy. Moreover, the economic benefits will be very good. Because it is clean energy, our government will give economic subsidies in order to ensure continued development of the renewable energy.