Professional Feed Mill Manufacturer
Poultry Feed Machinery
We can supplier of poultry feed mill and livestock feed equipment,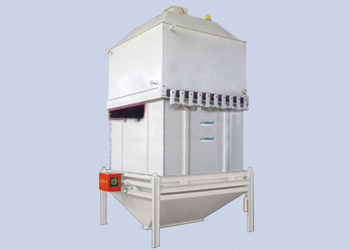 Product Name:SWLN Series Stabilizer-Cooler [Ordering]
Model:SWLN
Model:Cooler, Crumbler & Screener




Features

1.New-type stabilizing (post grinding) and cooling equipment. It organically combines pellet stabilizing and couterflow cooling, making great use of workshop space so as to saving the space.
2.The stabilizing section and cooling section are vertically arranged. Resulting in compact structure and less floor space;
3.The swing plate discharging mechanism is adopted in the stabilizing section. The heat-insulting sandwich is available, resulting in high temperature inside the stabilizer, long stabilizing time and good cooking effect.
4.The mature technology of counter flow cooling is adopted in the cooling section, ensuring the cooling effect.
5.High automation degree and convenient maintenance.
6.Applicable for producing fish, shrimp feed and high grade poultry and livestock feed.
Main Technical Parameters
| | | | |
| --- | --- | --- | --- |
| Model | SWLN2×2 | SWLN4×4 | SWLN8×8 |
| Capacity(t/h) | 3-5 | 5-8 | 8-10 |
| Power(kw) | 0.75+1.1+1.1 | 1.1+1.5+1.5 | 1.5+1.5+1.5 |