Professional Feed Mill Manufacturer
Poultry Feed Machinery
We can supplier of poultry feed mill and livestock feed equipment,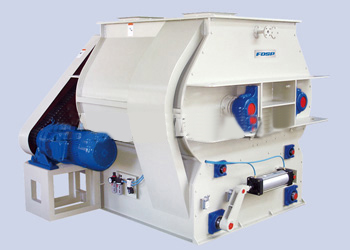 Product Name:SHSJ Series Double Shaft Paddle Mixer [Ordering]
Model:SHSJ
Model:Mixer & Liquid Adding Machines




Features
1.The mixing chamber is "W" horizontal shell shape. Double shaft and many paddles. The spraying system(spray nozzle & fittings) is on top of mixer can meet light and heavy bulk density materials mixing, improve the liquid atomizing and prevent from agglomerating.
2. Specially designed discharger has big door-opening angle and quick discharging with less residue. Good tightness and no products leakage.
3. High mixing speed and homogeneity. It makes materials can be mixed and no influenced for bulk density, filling degree in state of loss weight.
4. It is widely used for mixing of powder, granular, flake, block, irregular and sticky materials in the industries of feed, cereal, food, chemicals, medicines, pesticides, etc.
Main Technical Features

Volue(m^3)
Capacity /batch(kg)
Mixing Time(s)
Homogeneity(CV≤%))
Power(kw)
SHSJ0.2
0.2
100
45-120seconds(can be adjusted according to material raws)
5
2.2
SHSJ0.5
0.5
250
5
5.5
SHSJ1
1
500
5
15
SHSJ2
2
1000
5
18.5
SHSJ4
4
2000
5
30
SHSJ7
7
3000
5
37
SHSJ8
8
4000
5
45