Professional Feed Mill Manufacturer
Poultry Feed Machinery
We can supplier of poultry feed mill and livestock feed equipment,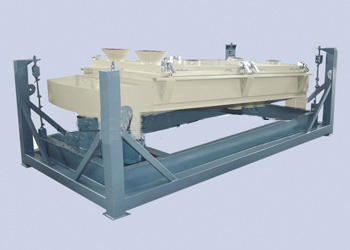 Product Name:SFJH-2C Series Rotary Screener [Ordering]
Model:SFJH-2C
Model:Cooler, Crumbler & Screener




Features

1. Three moving modes i.e. circumferential, elliptical and rectilinear are combined, resulting in good screening effect.
2. Belt is adopted for driving the pellet screener hull. The bias weights are balanced and low noise. The support at the tail of screener hull is an improved elastic support with less vibration.
3. The strengthened base ensures that equipment will run more smoothly. And the hanging structure can be used according to the actual site conditions so as to meet customer's requirements of retrofit.
4. The improved steel cable structure avoids the wearing of steel cable.
5. The adoption of one body or combined screener cover structure guarantees lower screener covers weight, stronger rigidity and better sealing.
6. It is applicable for screening and classifying of mash or pellet feed. It is also can be used for cleaning of raw materials and classifying of semi finished products after second grinding by large and medium feed mills.
Main Technical Parameters
Power(kw)
Output(t/h)
Mash
Pellet
2C Series
SFJH56×2C
1.1
1-3
3-5
SFJH80×2C
1.5
3-5
5-8
SFJH110×2C
2.2
6-8
8-10
SFJH125×2C
3
8-12
9-15
SFJH130×2C
4
9-13
12-16
SFJH140×2C
5.5
12-16
14-20
SFJH150×2C
5.5
14-18
16-22
SFJH155×2C
5.5
15-20
16-25